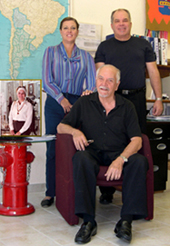 Corcel started in 1990 as an exporter of water industry products to Latin America gradually extending its scope to the Middle East and other international markets, with a strong presence all over the State of  Florida  with the assistance of Federal and Local development programs.
Corcel has been and is currently Certified as an SBE and/or MWBE and/or DBE vendor by the State of Florida, Florida Department of Transportation and many important Florida municipalities including the counties of Miami-Dade, Broward, Hillsborough and Orange. We also service directly and/or through contractors the cities of Hialeah, Miami, Ft. Lauderdale, Tampa, Orlando and others.
Corcel is a stocking distributor of pipe, valves, fittings and other related materials primarily for municipal water sewer divisions and their respective plants in South and Central Florida. We also stock and distribute cast iron grates and drainage materials as well as concrete valve and meter boxes.
Contact:
CORCEL CORP
Ray Corona – President & CEO
2461 N.W. 23 Street
Miami, Florida 33142
Tel: 305 636-1880
Fax: 305 636-1897
ray@corcelcorp.com
Cell (305) 431-3743
CORCEL CORP – APOPKA BRANCH
Raul Corona – Branch Manager
1121 Ocoee Apopka Road
Apopka, FL 32703
Tel 407-814-0098
raul@corcelcorp.com
Cell (407) 310-8254
CORCEL CORP – BROWARD BRANCH
Sarita Ribero – Branch Manager
904 South Andrews Avenue
Fort Lauderdale, FL 33316
(954) 696-3978
sarita@corcelcorp.com
Cell (786) 399-4733
You will receive prompt answers to your pricing and technical questions.
A Customer satisfaction is our number 1 priority