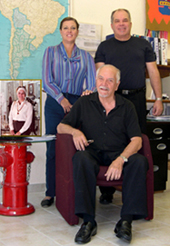 Corcel started in 1990 as an exporter of water industry products to Latin America gradually extending its scope to the Middle East and other international markets, with a strong presence all over the State of  Florida  with the assistance of Federal and Local development programs.
Corcel has been Certified as an SBE/MWBE  vendor by the State of Florida and most of its political subdivision actively providing products for their water/sewer divisions, among which are the South Florida Water Management District, the Counties of Miami-Dade, Broward, Hillsborough, Orange, Palm Beach and others, as well as by Cities, such as Miami, Fort Lauderdale, Orlando, Tampa, Jacksonville and more..
Contact  us at:
CORCEL CORP.
2461 N.W. 23 St.
Miami FL 33142
Tel: 305-636-1880
Fax: 305-636-1897
CORCEL APOPKA BRANCH
Raul Corona – Branch Manager
1121 Ocoee Apopka Road
Apopka, FL 32703
Tel 407-814-0098
raul@corcelcorp.com
Cell (407) 310-8254
You will receive prompt answers to your pricing and technical questions.
"Customer satisfaction is our number 1 priority"